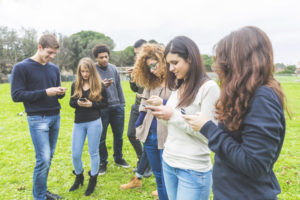 With the massive success of Pokémon Go, augmented reality games have gone from idea to a reality. But along with all of the fun new legal issues have sprung up.  Now, the law has to deal with these problems.
What is Pokémon Go?
With Pokémon Go, the objective is to walk around and find and catch all the different types of Pokémon. The game knows where you are by using your phones GPS and overlaying the game onto a Google map of the area.   Pokémon can appear anywhere and there are special points on the map where they can appear, people can get items at PokéStops, and battle each other at Gyms.
There are a lot of legal problems with Pokémon Go. The privacy issue of letting the game constantly track your location is disconcerting, but it is part of the game.  Because the game needs your location to work, people who choose to play let it track them.  This is less of a problem for ordinary players and other people.  A bigger problem is that people are trespassing on private property to play the game.
Trespass
Trespass on private property in Alberta is governed by two separate acts, the Trespass to Premises Act and the Petty Trespass Act. Both deal with trespass in a simple way.  Trespass is prohibited if an individual is told by the owner not to trespass or if a poster or sign states that no trespass it permitted.  If the owner tells someone not to trespass, it can be either orally or in writing and it can be before or during an incident of trespass.  Any signs prohibiting trespassers must be at each corner of land and at any entries to the land.
The punishment for trespass is a fine not exceeding $2000 for the first time. For second and subsequent offenses, the fine shall not exceed $5000.  Remember, these fees will only apply if the individual trespasser knows they are trespassing.  Being proactive and putting up signs is what the law wants.
If your property has a Gym or PokéStop on it you can contact Niantic, the game developer, to remove it.  Click here and fill out the form to submit your request to remove a PokéStop or Gym from your property.
If you are the victim of trespassers on your property, or have been accused of trespass, speak to one of the civil litigation lawyers at Aarbo Fuldauer LLP in Calgary.
Address: 3rd Floor, 1131 Kensington Road NW, Calgary, AB, T2N 3P4
Phone: (403) 571-5120
Email: info@aflawyers.ca
The information in the blog is not legal advice. Do not treat or rely upon it as legal advice.  If you require legal assistance, please contact a lawyer